The Rita Hayworth Fashion Page- Pt. III of III
Jean Louis and Rita Hayworth: A Master and His Muse (cont.)
Affair In Trinidad (1952)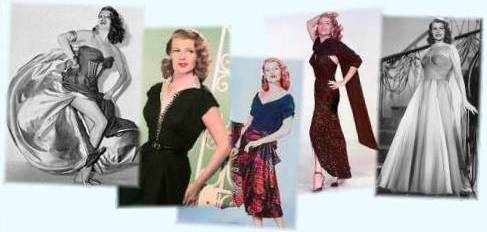 After a four-year hiatus from the big screen Rita was back. Hoping to have the same amount of success they'd had with her films in the past, Columbia got together much of the old Hayworth team- hair stylist Helen Hunt, makeup artists Clay Campbell and Robert Schiffer and Jean Louis. The old formula was just as successful as it had been before Rita's break from films; Affair In Trinidad was a bigger box-office hit than Gilda. From the flamboyant dress she wears in the opening scene to the day dresses and glittering gowns, Jean Louis' creations for Rita were as incredible as ever, garnering him an Oscar nomination for "Best Costume Design".
---
Salome (1953)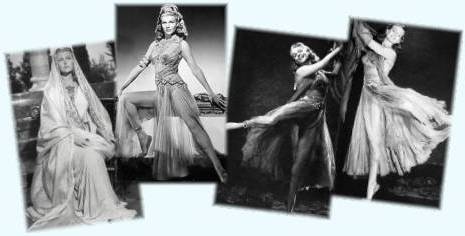 By 1953, when Salome was released, Rita was again one of the public's favorite stars. Anxious to give her fans the same glamorous Rita they'd known for years, Columbia Pictures wanted to go all out for her next film. In Salome she would play the title role of the notorious Princess of Galilee written about in the Bible. It was a Technicolor epic with Rita's old friend Jean Louis at the helm designing her lavish costumes. In my opinion- and that of many critics at the time- Rita and her gowns proved to be the only good thing in the film!
---
Miss Sadie Thompson (1953)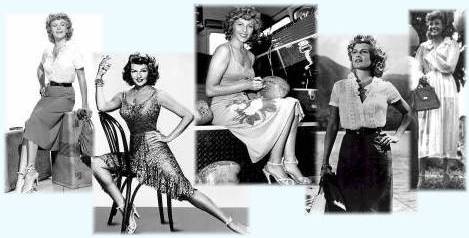 This is one of those films that show Rita's range as an actress and make me wish Columbia had begun giving her meatier roles earlier in her career. Sadie Thompson was a huge departure from the parts Rita was usually given, but it was still Jean Louis who created her wardrobe for the film. The gowns- the silk, the chiffon were gone this time around, in favor of cheaper looking materials and ensembles that matched the earthy sexiness of the Sadie Thompson character perfectly.
---
Pal Joey (1957)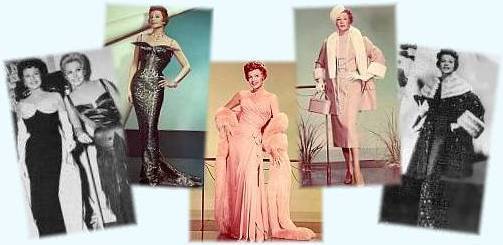 In Rita's final musical, she played the older woman to Frank Sinatra (whom she was actually younger than), Vera Simpson. The last time Jean Louis designed for Rita had been in Miss Sadie Thompson, three years earlier, but with Pal Joey it was back to glamour. His creations for Rita and newcomer Kim Novak (pictured at left with Rita) were lovely and colorful. There were evening gowns and San Francisco chic day dresses and hats for Rita and showgirl costumes for Kim that allowed both actresses to shine without overshadowing each other, earning the designer another Oscar nomination for "Best Costume Design".
---
They Came to Cordura (1959)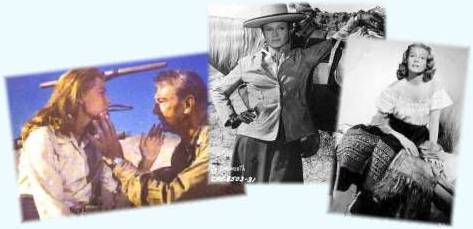 Jean Louis created costumes for Rita one last time in They Came to Cordura. The majority of the film takes place in the desert as she and five soldiers struggle to remain alive and make it back to civilization. Just a few items, such as a peasant blouse, wide-brimmed hats, boots, and long skirts befitting this situation were required.
---
Beyond the films...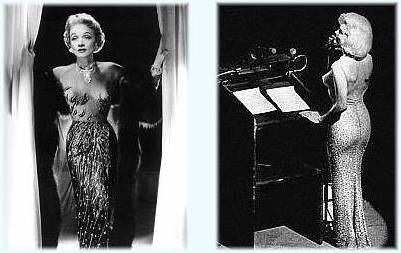 Rita would go on to make many more films in the years after They Came to Cordura and Jean Louis' career would go on for many more years as well. He was the mastermind behind Marilyn Monroe's famous champagne colored, glittering "Happy Birthday, Mr. President" gown, as well as many of Marlene Dietrich's concert gowns that gave the illusion of being very revealing even though she was actually completely covered. He would never work on one of Rita's films again, but the ten he did work on were among her most famous- so they are all available on video! We can still sit back and enjoy these classics and see some of greatest fashions ever created for an actress.
---
Go on to: Part 1 | Part 2 | Part 3
---
Previous Feature| Back to Features| Next Feature
***Special thanks to Caren Roberts-Frenzel, author of Rita Hayworth: A Photographic Retrospective, for providing the great color fashion shots from Pal Joey used on this page***