Rita's 12th Death Anniversary
May 14, 1999 was the 12th anniversary of Rita's death. Her passing from Alzheimer's Disease brought about international awareness of this disease, about which little was known at the time. The headline of Rita's obituary in the May 16, 1987 issue of the New York Times read:

---
A radiant Rita as we all remember her, at the peak of her legendary career.
---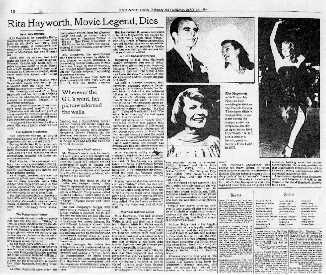 At left is Rita's obituary from the New York Times. The first paragraph reads: "Rita Hayworth, the legendary Hollywood beauty who rose to international fame in the 1940's and 1950's died Thursday night, of Alzheimer's disease, in her Central Park West apartment in Manhattan. She was 68 years old." As we all know, Rita was a screen beauty who became one of the greatest of all Hollywood legends. Her daughter, Princess Yasmin, said in the June 1, 1987 issue of People Magazine, "She was a beautiful, talented, warm-hearted woman who had the greatest sense of humor," and in an interview in 1997, she said Rita "loved her career as an actress. She devoted herself completely to it and worked hard at it, particularly when in came to dancing" In 1981, Yasmin brought her sick mother to live with her in New York. Rita's behavior in the years before being diagnosed was unpredictable. People mistakenly attributed her erratic behavior to alcoholism. It's sad to hear the stories about the effects the disease was having on her in later years. Yasmin said "She claimed to hear things in the Beverly Hills house and would insist someone was breaking and entering. No one could convince her that nothing was wrong, and she would call for the police." In the end none of the triumphs or heartache of the past were even a memory in Rita's ravaged mind.
---
Rita's daughters Rebecca and Yasmin after her funeral. The services were held on Monday, May 18, 1987 at the Church of the Good Shepherd in Beverly Hills. Her final resting place is at Holy Cross Cemetery in Culver City, California.
---
October 17, 1918-May 14, 1987
A publicity shot from Gilda. Despite the tragic end to Rita's life, she continues to have worldwide fame. To us fans and future Rita Hayworth fans, she will always be remembered as the magnificent dancer -the vibrantly beautiful glamour queen of Hollywood's Golden Age.
---
Previous Feature/ Back to Features/ Next Feature