The Rita Hayworth Fashion Page- Pt. II of III
Jean Louis and Rita Hayworth: A Master and His Muse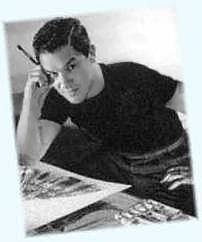 Behind every glamorously gowned actress is an equally fabulous fashion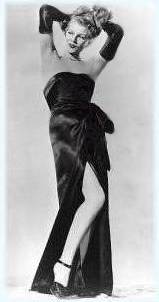 designer. Hollywood's Golden Age was filled with dynamic fashion duos. Some designer-star collaborations have achieved legendary status- Audrey Hepburn had Givenchy, Bette Davis had Orry-Kelly, Greta Garbo had Adrian -and Rita Hayworth had Jean Louis. It was just another part of the studio system, where both designer and star were under contract to a particular studio. Rita was Columbia Picture's biggest moneymaker and Parisian designer Jean Louis was, in 1944, their new "Chief Designer". That same year he would begin creating the gowns for his first Hayworth film, Tonight and Every Night. They would go on to work together on nine more films in which he became an essential ingredient in the formula that created the Rita Hayworth image. In legendary fashion partnerships like theirs, the designer seemed to have a special rapport with the particular star. They knew the actress' body and knew how to hide any imperfections while accentuating their best features. Jean Louis did this for Rita, and his creations helped transform this shy girl who preferred wearing jeans and sweaters into one of Hollywood's original goddesses of glamour.
---
Tonight and Every Night (1945)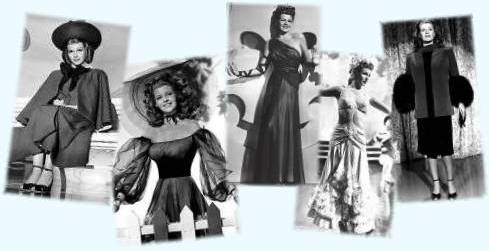 In Tonight and Every Night Rita played a performer who sang and danced every night so that the war-weary soldiers who visited London's Music Box Theatre could forget their troubles. Columbia Pictures' new head of design, Jean Louis, with the help of Marcel Vertes, would create the costumes for the film. In addition to the usual task of creating both glamorous showgirl costumes and everyday fashions, this film carried with it a special obstacle -hide the fact that she's pregnant! They handled this delicate situation by rushing to film the dance numbers first, before her pregnancy was noticeable, then for the rest of the movie she was filmed behind high furniture, lots of close-ups or discreetly hiding her tummy behind a muff or wearing a quite fashionable maternity dress by the final scene. Of course this does not affect the level of quality. The wardrobe created for the film is truly stunning and marked the beginning of a long and beautiful fashion partnership.
---
Gilda (1946)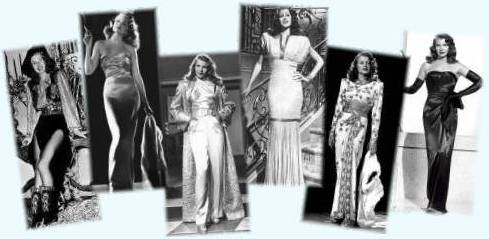 "There never was a woman like Gilda", huh? Well, there never was a wardrobe like hers either. Gilda is by far the most acclaimed Jean Louis-Rita Hayworth collaboration. Every gown is more stunning than the last. Whether shimmying to "Put the Blame On Mame", seducing Glenn Ford in the middle of a carnival or screaming at him in a hotel room, Gilda's wardrobe was downright jaw-dropping. Life magazine ran an article at the time showcasing Rita's "$60,000 wardrobe" for the movie. That amount was much more back then, but it was worth every penny! It's one of the most beautiful sets of clothes I've ever seen in a movie.
---
Down to Earth (1947)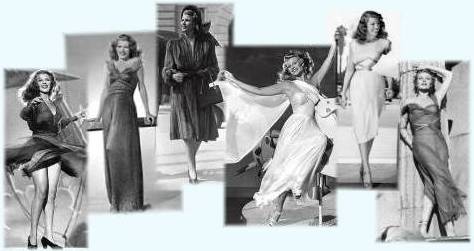 Down to Earth was Rita's next movie and this time Jean Louis' talents would turn the actress nicknamed the "Love Goddess", into a real goddess. Rita plays Terpsichore, the legendary muse of the dance in Greek mythology in this tale about a goddess who goes down to earth and falls in love with a mortal. With the help of Jean Louis' fashions befitting both a goddess in the heavens, as well as a mortal in the earthbound scenes, Rita is arguably at her loveliest in this fantasy film.
---
The Lady from Shanghai (1948)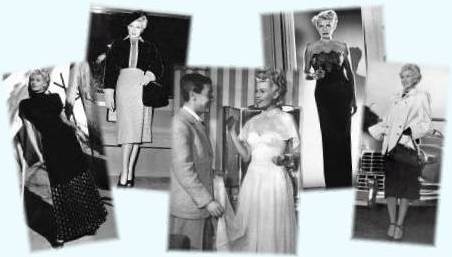 In The Lady from Shanghai the wealthy Elsa Bannister was sweet on the surface and a scheming seductress underneath. Jean Louis (pictured at center with Rita), created the ideal wardrobe for such a woman. The movie was filmed in glorious black and white and his use of these two basic colors beautifully complimented the signature dark cinematography of film noir.
---
The Loves of Carmen (1948)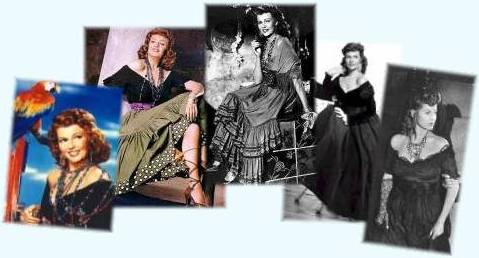 Having been a "Dancing Cansino" as a young girl, Rita was right at home as the dancing Spanish gypsy of The Loves of Carmen. Jean Louis was once again given the chance is display his prowess as Rita's designer. He could take Rita from genuine goddess to scheming seductress to peasant gypsy in film after film with brilliance. Here his vivid colors, sparkles, beads and bangles make the best use of 40's Technicolor and provide Rita with the flair needed to become Carmen.
---
The next page, Part 3, is a continuation of this Jean Louis section, discussing and showing his creations for the last five Rita films he worked on and a few of his other still-famous gowns for other legends.
Go on to: Part 1 | Part 2 | Part 3
---
Previous Feature| Back to Features| Next Feature