An Interview with:
Rita Hayworth: A Photographic Retrospective author,
Caren Roberts-Frenzel
Page 2: Caren's Amazing Collection

Caren has an enormous collection of original Rita Hayworth photographs. But that's only the beginning. Her extensive movie memorabilia collection also includes about a thousand photographs of Vera-Ellen, and gowns from both Vera-Ellen's and Marilyn Monroe's personal wardrobes. Here Caren talks about some of the jewels of her Hayworth collection: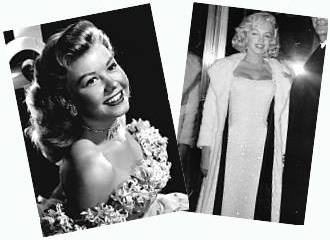 That's Vera-Ellen at left and the Monroe gown Caren owns on the right.
---
About how many Rita Hayworth photos do you have?
I haven't counted for a while, but I know I have over 5000 photographs, and the collection is constantly growing. I also have thousands of clippings, hundreds of movie magazines with her on the covers, autographs, personal snapshots, clothing and jewelry.
Which are your favorites?
A lot of my favorite photos are in the book. The one of Rita with her daughter Rebecca (on page 112) and with her daughter Yasmin (on page 164) are two of my favorites. And the one on the inside front cover - of her throwing her head back and laughing, during the Down to Earth period - is another favorite. I have a lot of favorites! I seem to gravitate to the photos of Rita with her children - that's the mother in me, I guess! I know how happy my children make me, and I know she felt the same way when she was with her daughters.
Alongside your enormous photo collection you have a few amazing Rita Hayworth artifacts, a few I know of include the "Amado Mio" dress, a gown from Salome (both pictured below) and two pairs of shoes. What's it like having them?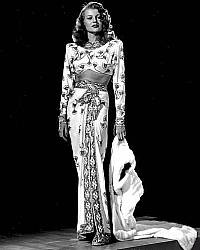 It's a little surreal, but I'm very fortunate! The wonderful thing about the Amado Mio dress from Gilda is that, bead for bead, mistake for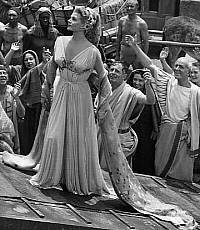 mistake, it matches every photo of Rita wearing it! I even have a photo of Rita where you can see the lining of the dress, and the intricate stitches in the lining (the dress was made by hand, with every bead meticulously sewn on by hand). I blew up the photo of the lining and compared the stitches to those in the lining of my dress, and every knot and thread and bead placement - even the ones that were placed on in a crooked fashion - are exactly the same! There are thousands of beads on the dress, many of which are missing, and it's very fragile, but it's a work of art. They don't make costumes like they used to! People have asked me if I have any intention of restoring it, but quite frankly (and this is just my opinion), when a costume like this is restored; it means that beads and materials that Rita Hayworth never wore would be on the dress. That does not appeal to me. I'd rather have a worn out dress that is the true, pure costume than a new one, part of which had never been worn by Rita. And I know that all materials eventually erode, but would it be better to have one that hasn't eroded but is no longer really Rita Hayworth's costume? Again, this is just my opinion, and the next lucky person who owns this dress may decide differently.
I agree, I've seen some very exhaustive restorations of dresses on TV and sometimes I just think, well, it's not really the same dress anymore, is it? But anyway, is the dress tiny? She looks so tall and so thin in Gilda!
I think she was fairly small. Fred Astaire was a small man, and Rita is smaller than him on the screen, so even though she was about 5'6" in height, I think her frame was small. The gown from Salome, which was made in 1952 after Rita had given birth to both of her children and was a little heavier than she had been in the past, is extremely small! So I think she was probably the classic example of a movie star who looks larger than life on the screen but in person would surprise you.
What are the two pairs of shoes you have? What size are they?
The shoes I have, from Pal Joey (they are the shoes she wears on the boat with Sinatra, that go with the apricot gown and fur), are size 7AAA. They have "Custom Made for Rita Hayworth" embossed inside. The other pair is from The Story on Page One (and in fact, they are shown in close-up in the film, when she bends down to pick up a newspaper), and they are size 7, I believe. She had thin feet, just like she had thin hands (hands that any woman would die for)!
---
***The Salome picture above is from Caren's own collection***
---
Previous Feature| Back to Features| Next Feature