An Interview with:
Rita Hayworth: A Photographic Retrospective author,
Caren Roberts-Frenzel
Page 4: Favorites, E! and Meeting a Princess

---
Do you have any favorite stories about Rita showing how she was in real life that youíve heard from people that knew her?
I think my favorite stories are those that involve Rita's sense of humor. She used to tease Glenn Ford about the tight pants he had to wear in The Loves of Carmen. Her friends always comment on her sense of fun, and I think you can see that side of her in her musical comedy films like Cover Girl and You'll Never Get Rich.
Can you pick a favorite Rita Hayworth movie?
I'd have to say that it's a tie between "You Were Never Lovelier" and "Tonight and Every Night." The first for sentimental reasons, because it was the first time I really got a chance to watch her dance, and because there is (arguably) no celluloid that can compare with that of Rita and Fred Astaire dancing together! And Tonight and Every Night is a rather odd film that shows Rita at her best - she was pregnant and incredibly happy at the time, and this is evident in the film in both her acting and her dancing. There are quite a few close-ups of her in the film where you watch and think, there is no one in the world more beautiful than this woman!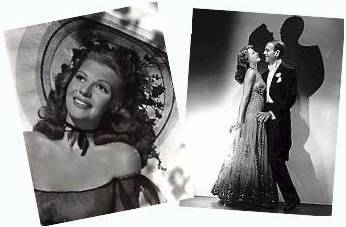 Tonight and Every Night and You Were Never Lovelier, with Fred Astaire.
Are there any of her films you dislike?
I'm not fond of Angels Over Broadway, because Rita has a way of speaking that is rather affected, like she was given a crash course in diction. And I really can't stand Down to Earth, even though she's wonderful in it and dances beautifully.
The Films of Rita Hayworth book calls The Naked Zoo her "most obscure film"; have you seen it?
Yes, it's a ridiculous film! Although Rita's acting is very good in it. It's very disjointed and it looks very cheap. There are a lot of nude scenes that Rita was not happy about (they would be considered extremely tame by today's standards, but Rita abhorred nudity on the screen). In one scene where Rita and actor Stephen Oliver are trying to escape her enraged husband, there is a lot of unnecessary leaping and bounding over furniture - I was laughing out loud at the ludicrousness of it! I completely understand why it's obscure.
What do you think of the biographies on Rita written in the past? Do you have a favorite?
John Kobal's book, "Rita Hayworth: The Time, the Place, and the Woman" is my favorite, because he was able to interview so many people in her career and life before many of them died, and because he was a fan of Rita's and that admiration shows through in the book. It's also filled with wonderful photos.
You also appeared on the "Mysteries and Scandals" E! television special on Rita. What was that like?
That was interesting - fun and different! There were no mysteries or real scandals in Rita's life, but her personal life was rather sensational and they definitely capitalized on that (despite my many quotes about the happy periods in her life, which they didn't use)! But I still think that they were sympathetic to her in the program, and to the challenges that she faced, and so I wasn't unhappy with the way it turned out. Rita did have some unsavory characters in her life, and you can't dismiss that, but she was always intelligent enough to extricate herself from unhappy situations. Unfortunately, most programs want to highlight the sad parts of a person's life, and so I participated in the program, hoping that I could bring a positive spin to it.
You've also been to two of the Alzheimerís Associationís Rita Hayworth Galas, what were they like?
The Rita Hayworth Galas are held twice a year, in New York and Chicago. This will be their 18th year coming up! I went to the New York Gala in 2000 and the Chicago Gala this year - both were wonderful experiences. It was a little intimidating dancing next to the likes of Regis Philbin, Dan Ackroyd, Deborah Norville and Leona Helmsley (not to mention Rita's daughter, Princess Yasmin Aga Khan!), but we had a great time and it's for a worthwhile cause, which is raising money to find a cure for Alzheimer's Disease. The New York gala takes place at the Waldorf Astoria, and when you come off of the elevator to attend the cocktail reception, there are tons of photographers waiting to take pictures of the rich and famous. When my husband and I got off the elevator, there was a noticeable silence and a distinct absence of flash bulbs popping!
That's so funny! And you met Princess Yasmin that night, right? What was that like?
I met Princess Yasmin for the first time that night, but have met with her a couple of times again since then. She is a very beautiful, sweet and kind woman. She takes after her mother! She is very approachable, and she is also very proud of her mother.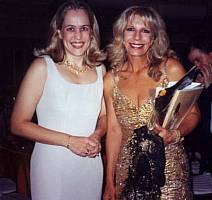 Caren and Princess Yasmin at the Rita Hayworth Gala in NY.
Have you gotten any reaction from her about the book?
She has told me that she loves the book, so I'm thrilled about that.
What (if any) book writing plans do you have in mind for the future?
As of now, I am not working on another book. I would love to, but it's just a matter of whether the subjects I'd like to do a book on are subjects that publishers think are marketable. I wouldn't do a book on someone I didn't have a strong interest in. In fact, I was recently asked to do a book on Julia Roberts, but I turned it down, because she doesn't appeal to me. I have to have my heart in the subject. My goal for many years was to see this Rita Hayworth book get published, and that goal has been achieved, so I can die a fulfilled woman! Right now my publisher and I are discussing some other options, so we'll see what happens. You'll be the first to know!
---
***The Tonight and Every Night picture above is from Caren's own collection***
---
Previous Feature| Back to Features| Next Feature